Lodgical POS
Make your operation run efficiently and boost sales with a point of sale that's easy for your staff to learn. Lodgical Point of Sale (POS) offers full inventory control, comprehensive reporting and secure, fully PCI-compliant credit card processing that tokenizes cards, so no credit card information is ever stored on your system. It also features complete restaurant functionality, including multiple receipts and kitchen/order up receipts.
Lodgical POS can run as a standalone application or directly integrate with Lodgical Solution to allow guests to charge items to their rooms, including via RFID-compatible formats.
Lodgical POS works with restaurants, retail, amusement parks, bars, spas and more.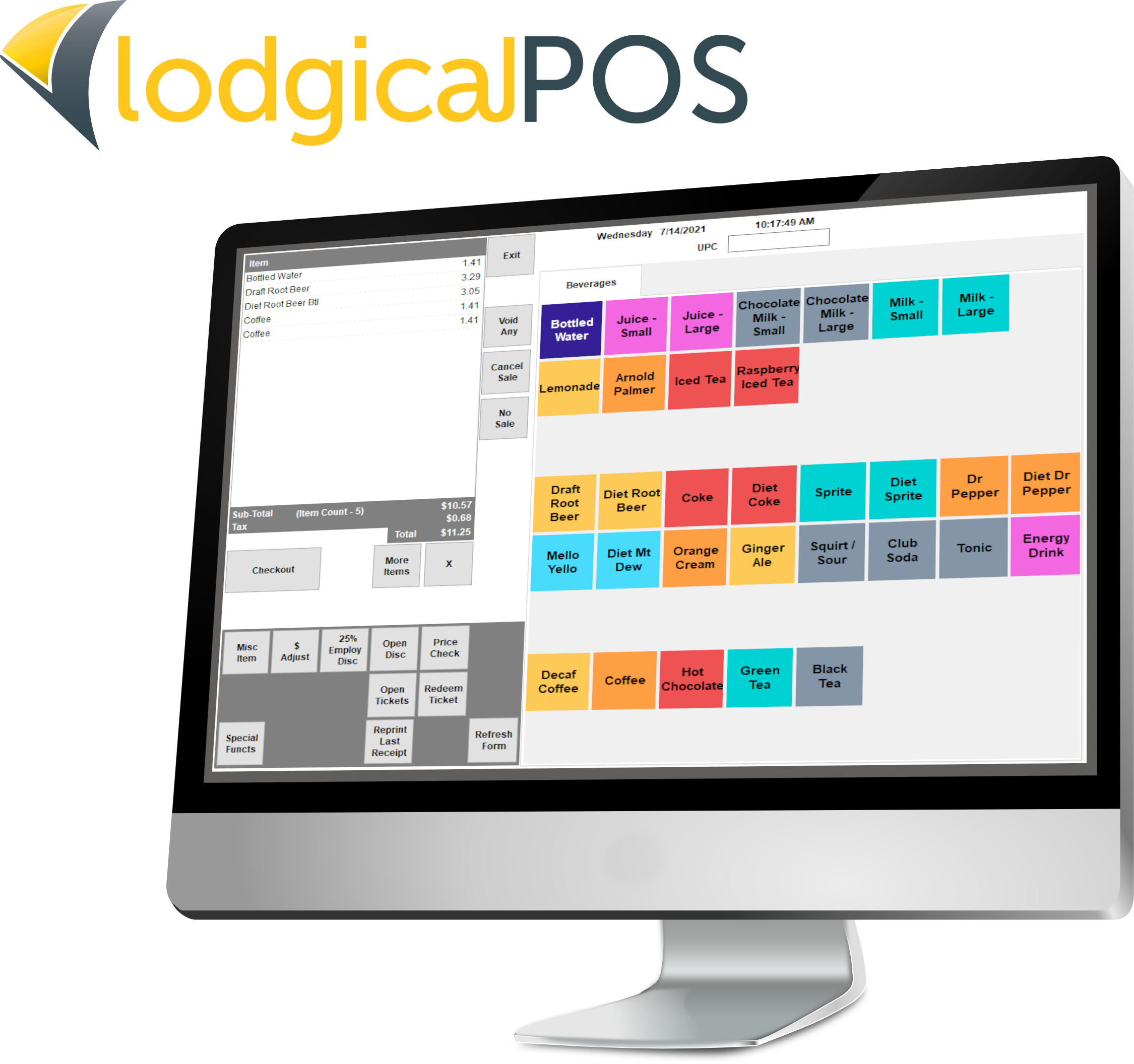 Restaurants
Whether your restaurant stands on its own or is part of a hotel, resort or amusement park, we have a Lodgical Solution for you. For hotels and resorts, the Lodgical POS is fully integrated with our Lodgical PMS.
Amusement Parks
Amusement parks find Lodgical POS the perfect solution for their needs. It supports wrist band technology and more. Whether your operation needs one terminal or 50, the Lodgical POS will scale to meet your needs.
Bars
Open tabs for your patrons, quickly and easily.
Retail
Retail shops appreciate our straight-forward approach to POS. Whether you are running a gift shop in a hotel lobby, a shoe store in a mall, or a sporting goods store, Lodgical POS's flexible architecture allows you to run your business the way you want.
Spas
Your hotel's spa services can be integrated into Lodgical PMS.
User Friendly
Lodgical POS is fast and easy to learn. After all, we built it with your operation in mind. We understand that your servers need to catch on quickly, so they can spend more time doing what they do best – providing outstanding service to your customers.
All the training you need
It is critical to get off to a good start. We make sure your staff members have the knowledge and power they need to take advantage of our tools by providing full training for setup, as well as management and server training.
Functionality
Whether you are splitting checks, dealing with gift certificates or reporting tips, the Lodgical POS has the functionality that your operations need to achieve proper efficiency and higher profits.
Flexible reporting
Getting the information you need makes all the difference in the world. We pride ourselves on the power and flexibility of our reports.
Security
Multiple levels of control are built into the system to help control fraud.
Providing Software Solutions for the Tourism Industry
Our software's quality and ease-of-use demonstrate our in-depth understanding of the tourism industry. That's because we've built it from the ground up since 1984. Learn more about our story >>